My kids are forever collecting things and we wanted something small to hold their treasures. I'm showing you how to make a seashell collecting bag – and this one stays open so little hands can slide in and out easily! Mesh is a little slippery to work with but a plain old gluestick helps hold things together while you sew. All the bias and twill tape means very little measuring or tube turning, so this is a quick sew if you have a family reunion or beach birthday party favors to make! Please make sure to be mindful of the rules taking seashells from anywhere you're visiting, and that some shells may be reused by smaller critters, so throw them back in if they look seaworthy.
It has a simple cinch style closure, and then the ties are easy to loop and tie around a backpack strap or the like.
While you're here, check out these similar posts too!
Here you can see how it "stays open" thanks to the combination of bias tape and mesh stiffness. Sometimes wet fabric is hard to separate, but this isn't!
Full disclosure, I bought those shells at the dollar store! In the Midwest, seashells are tough to find, and the treasures my kids find on beaches aren't exactly picturesque.
Ready to make your own?
Pin this summer sewing tutorial for later with this link or photo:
How to make a seashell collecting bag
Supplies:
Steps:
Cut two rectangles 9.5″ wide by 14.5″ tall and then round the two bottom corners out, using a plate or a lid as a guide.
2. Layer the rectangles over top of one another; cut a 40″ piece of bias trim and then sew it around 2 long and 1 short side, to secure the two rectangles together.
3. Cut a 19.5″ piece of bias tape and sew it around the top of the bag, sandwiching the mesh in between the tape's layers. Make sure to press the side seams the same direction (either towards the front or towards the back). Fold one short edge under itself when you get to the end and sew over it to cover any raw edges.
4. Cut two pieces of bias tape 20″ long and iron the main fold flat. Fold each 20″ piece in half, and then fold the short ends in so the raw edges are concealed. You can use a glue stick to gently baste everything together. Sew each piece about 3″ down from the top, one on each side, leaving a small gap where they almost touch near the side seam.
5.Use the bodkin or safety pin to thread each piece of twill tape through the channels, and then knot each end. You can apply fray check to the ends if you want to be extra cautious.
You're done!
Before you go check out all the other fun posts that went up today and head over to Life Sew Savory for all the Summer Fun series posts…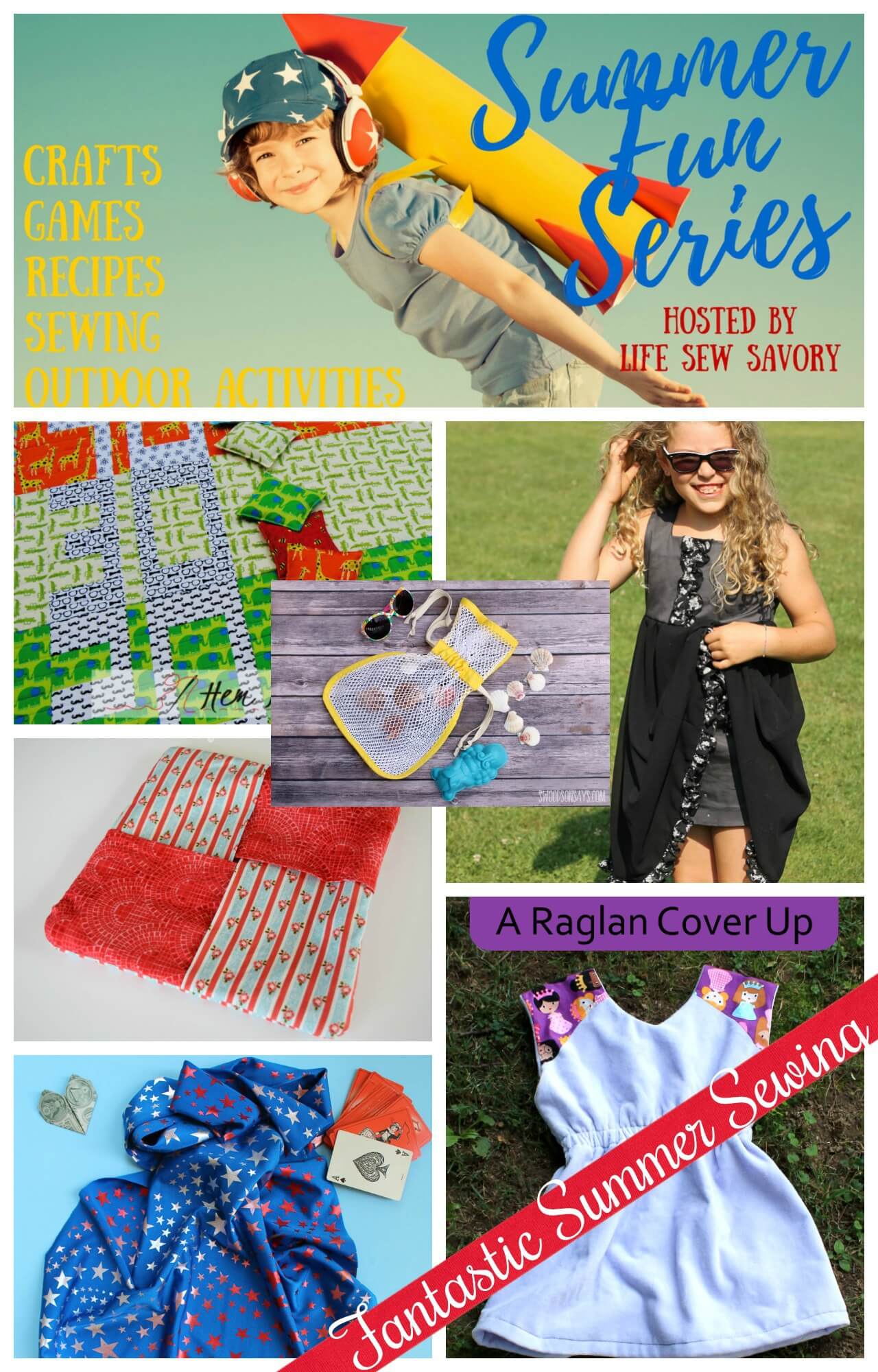 Toss and Go Quilt Game – by Hem Me In
Easy Fabric Hot Pad – Adventures of a DIY Mom
Easy Magicians Cape – Sew What Alicia
Raglan Pool Cover Up – Call Ajaire