Another Saturday in May, another scrappy project! You can see my first scrap busting saturday post, a quilted needbook, here. Today it's a quick and easy wall art project tutorial. I'm also sharing a few businesses that I admire for selling products made from recycled scraps!
I'm planning on  hanging this up in my sewing room, but it is a legitimate disaster down there and dark as a dungeon so I took pictures in my son's nursery. This took all of an hour; it is so satisfying to have a finished project during one nap-time.
Supplies:
-Printed sewing machine silhouette, an awesome freebie from A Lemon Squeezy Home
-Pile of coordinating fabric scraps
-Scissors
-Paintbrush or sponge brush for Mod Podge
-Canvas (this one is 5″ X 5″)
Steps:
Professional Scrap Busters
I really admire folks who put extra effort into keeping their business environmentally minded and it always catches my eye when someone is producing awesome things made from scraps.
Lu & Ed
Cody, the mon-stor maker behind Lu & Ed, is super nice and very engaged in the creative social media sphere. She makes many creative rendition of funky monsters, from softies to toy organizers to tooth fairy pillows and they're made from 90% recycled/upcycled materials! I keep checking back to 'adopt' on of her mon-stors but they're always sold out. Always a good sign, right? Head over & check out her shop and see some of her before & afters in this blog post!
WoollyBottoms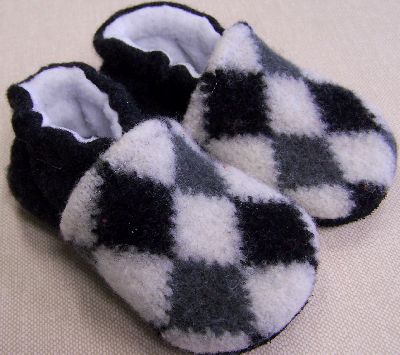 WoolyBottoms is a wool cloth diaper company that has a fantastic reputation. In addition to make their wool diapering goodies out of recycled sweaters, they then make these adorable little slippers out of the diaper scraps. Click over and check out some of their things; they also sell wool scraps, arm warmers, and blankets!
Reusable Usables is a nonprofit, not a business, but I think what they're doing is so cool and I want to share it! Located in the Quad Cities, where I lived once upon a time, they take scraps from local businesses and provide them in a store front for folks to shop. They also host creative classes and workshops for kids and adults, using all upcycled materials. I would love to see something like this in every city – what better place to take a creative kid than a room full of recycled potential! Check out their operation here.
—
*affiliate link